Manoel Pourras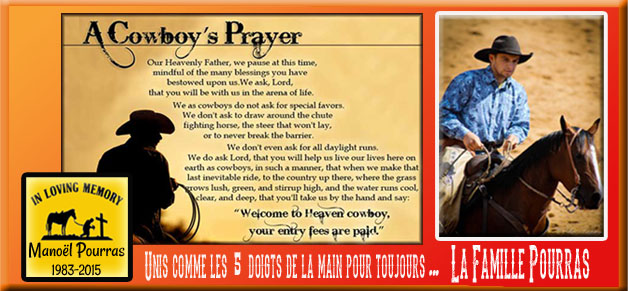 « We do not know how long we will live here on earth,
but we do know that our Lord wants us to make the most of it… »
Not a day goes by that we don't think of all the memories
we shared together as a Family !
Our hearts will bleed until we meet again in Heaven…
**********************
Manoël est né le 31 août 1983 dans le monde du cheval. Il passa toute son enfance à dos de poneys et pratiqua de nombreuses disciplines. Après le polo où il joua handicap 0* pendant son adolescence, il se consacra exclusivement au débourrage de chevaux et à la rééducation de chevaux à problème. Après une formation durant 7 mois dans un centre de cutting au canada où il debourra une dizaine de Cutting Horse, Manoel s'installa avec son BTS en poche comme jeune agriculteur en 2005. Ce qui permit au ranch d'investir dans de superbes poulinières Quarter Horses…
Il entraîne les chevaux dans le but d'en faire de vrais « Stock Horses » (Cheval de show et de Ranch à la fois).
Un autre voyage en Arizona chez Al Dunning (Multiple World Champion Reining, Cutting, Working Cow) Juge NCHA, NRHA, NRCHA… lui permit de se perfectionner avec l'un des plus grand Horsemen. Cette expérience fût inoubliable !
Sa Cancun fût l'une des plus belles histoires équestres qu'il ait jamais vécue. 

Son Palmares :
Triple Vice Champion d Europe Working Cow Equita 2012 ERCHA NRCHA (Open bridle, Limited Open, Two Reins)
3ème Ranch Sorting Open SDWA 2012
3ème Working Cow Open SDWA 2012
Vice Champion Working Cow Open SDWA 2012
Champion Working Cow Open SDWA 2012
3ème Working Cow Horse Championnat d'Europe ERCHA Open Bridle Equita'lyon 2011
3ème Working Cow Horse Championnat d'Europe ERCHA Open Hackamore  Equita'lyon 2011
Champion Working Cow Open SD Trophy 2011
3ème Championnat Team Penning Open AFET 2010
Vice Champion Team Penning Limited Open AFET 2010
Champion Team Penning West Road Trophy 2010
Champion ERCHA Ranch Cutting Open Equisud 2010
Vice Champion ERCHA Working Cow Horse Open Equisud 2010
Finaliste Top 6 Championnat de France de Ranch Sorting 2010
Finaliste Top 10 Championnat de France de Cattle Penning 2010
Vice champion Barrel Racing Maturity Français 2008
Champion Mecanicalf Roping 2005
2ème Pole Bending Equita 'Lyon 2004
Finaliste Championnat de France Poney Polo 1997
Champion Régional Rhone Alpes Poney Polo 1997