APRIL FOOLS BOON – Quarter Horse 1998 from Canada
APRIL FOOLS BOON
Notre merveilleuse April a pris une retraite bien méritée…
Son dernier poulain Sand Rooster Boon est en cours de débourrage et disponible à la vente.
APRIL est une jument née au canada en 1998 qui toise 1m51
Sire : DUALS BLUE BOON (DUAL PEP x ROYAL BLUE BOON)
Dam : BARMAID WITH CASH (CASH QUIXOTE RIO x mère DOC TARI)
Et petite fille de 3 chevaux hors du commun :
DUAL PEP
ROAYL BLUE BOON
CASH QUIXOTE RIO
Dans son pédigré : Royal Blue Boon, Dual Pep, Dual's Blue Boon, Cash Quixote Rio, Peppy San Badger, 5x Doc Bar, 2x Royal King, 5x King P234
Après de nombreux concours de Cutting au Canada, elle showa dans la fameuse arène de Forth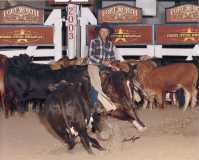 Worth TEXAS, puis nous l'importons en 2006.
Palmares de ses poulains :
OKIE AND BOON né en 2002 fut entrainé en cutting puis en Reining par Shawn Flarida (Multiple champion du monde de Reining)
IM A BOON TOO entrainé par Shawn Flarida 12000 $ NRHA
DUAL CASH BOON show en Reining aux USA
Un autre remporta le championnat de Barrel Racing au Canada
OKIE FOOL BOON né en 2004 remporta de nombreux bronze au USA et en France en Reining
Mr OKIE BOON termina 3ème au Championnat ERCHA NRCHA Working Cow Hackamore Equita'Lyon 2011.